At KONE, our mission is to improve the flow of urban life. As a global leader in the elevator and escalator industry, KONE provides elevators, escalators and automatic building doors, as well as solutions for maintenance and modernization to add value to buildings throughout their life cycle. Through more effective People Flow®, we make people's journeys safe, convenient and reliable, in taller, smarter buildings. In 2022, KONE had annual sales of EUR 10.9 billion, and at the end of the year over 60,000 employees. KONE class B shares are listed on the Nasdaq Helsinki Ltd. in Finland.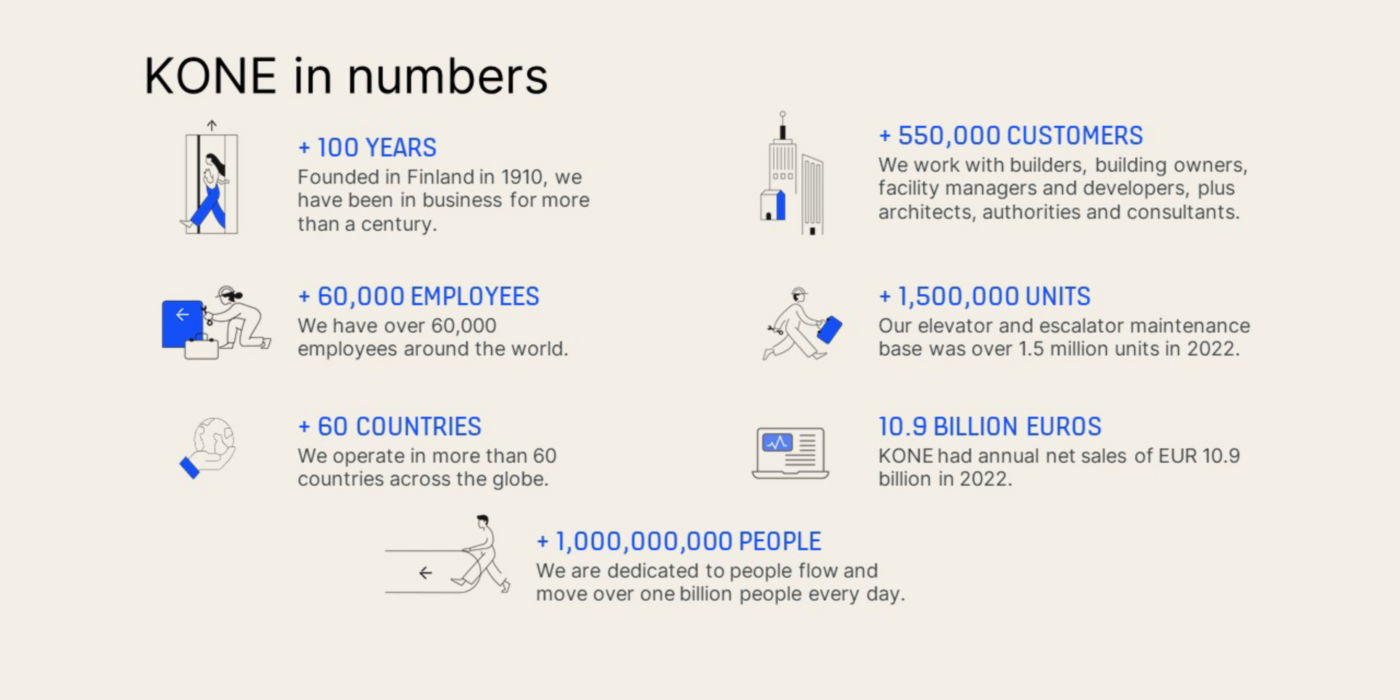 KONE's mission and vision
At KONE, our mission is to improve the flow of urban life.
As the urbanization megatrend shows, the world's cities are constantly growing. They attract billions of people and by 2050 more than two in every three people on the planet will live in urban areas. Estimates tell us that around 200,000 people move into cities across the globe each and every day, the same as 140 people every minute.
In this increasingly urbanizing world, our mission is toimprove the flow of urban life. We understand urbanization and help our customers make the best of the world's cities, buildings and public spaces. We know we can truly contribute to making cities better and more sustainable places to live. This mission is the purpose that guides every decision we make.
Our vision is to create the best People Flow experience.
Our goal is to provide ease, effectiveness and experiences to our users and customers over the full life cycle of buildings. We believe the best experience can be created by working together with our customers and partners in every step of the process, from early engagement to upgrading equipment.
Our worldwide presence
We operate in more than 60 countries around the world, serving over 550,000 customers. Headquartered in Helsinki, Finland, we have eight global R&D centers and ten manufacturing units in seven countries, as well as a worldwide network of agents and authorized distributors.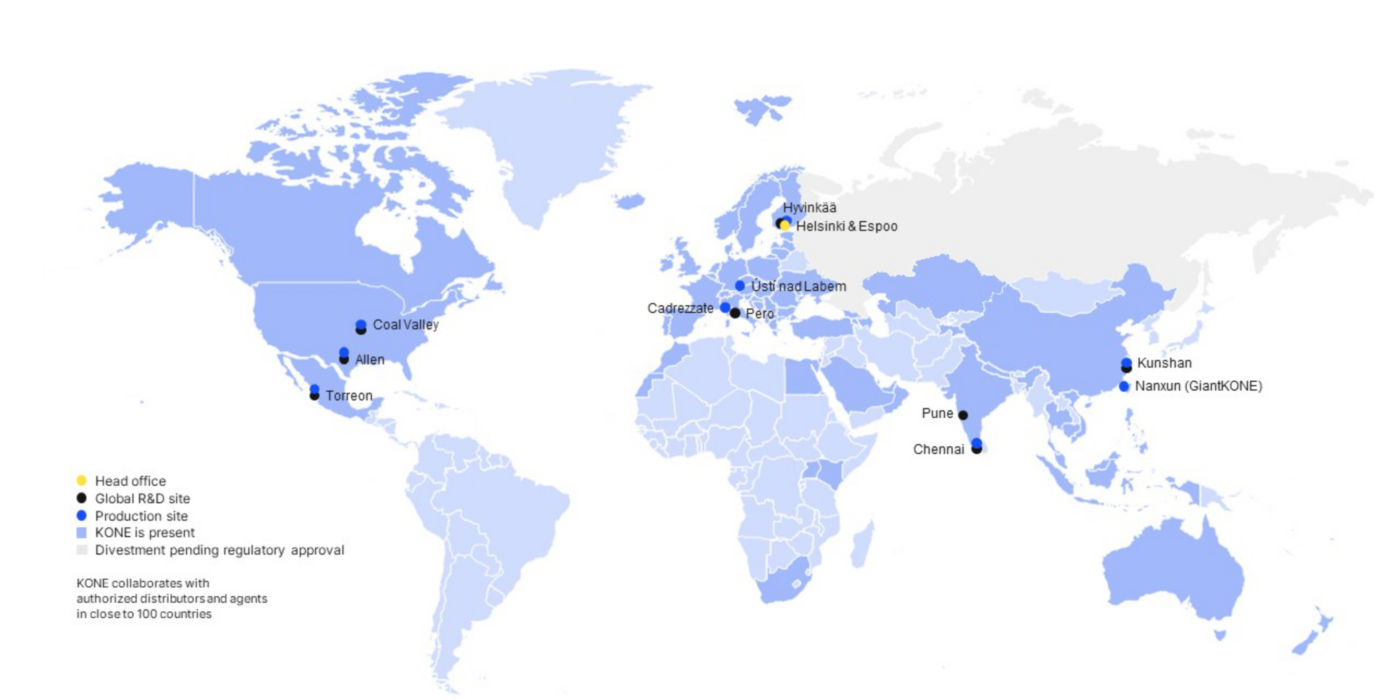 Three megatrends drive the growth in our industry
Urbanization
Today more than 50% of people live in urban areas. By 2030 an additional 1 billion people will move to urban areas.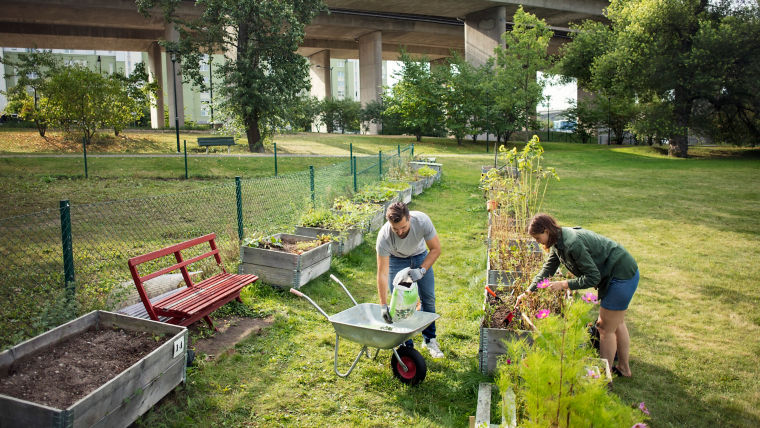 下载188怎么注册
Globally cities stand for 75% of energy consumption and 80% of manmade greenhouse gas emissions. Sustainable building and circular practices become more mainstream in new construction and refurbishment.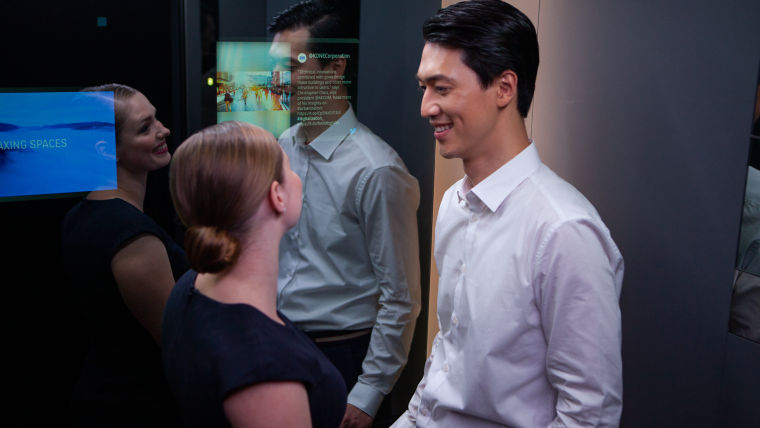 Technology
技术支持解决的许多考验es with rapid urbanization and climate change.